New Mum Discovers That Her MIL Has Access to Her Nanny Cams and Has Been Monitoring Her Parenting
A new mum has reached out for support after her mother in law gained access to her nanny cams and has been constantly monitoring their parenting. In what can only be described as one of the biggest boundary stomps we have ever seen, it was her own husband who gave his mother the login details to the cameras set up in their baby's room, betraying his wife's trust completely.
The parents have a ten-month-old baby and have recently hired a nanny while the mum went back to work. Her mother in law had previously asked for the password to the nanny cams but the mum refused, knowing that anyone with access to the nanny cams would be able to see all footage from past recordings.
This didn't stop her husband from giving his mum the login details anyway.
Seeking advice from Reddit, the upset mum explains the full story: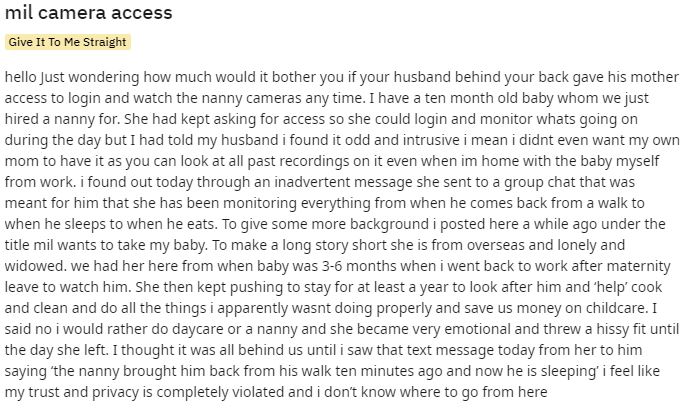 The mum received plenty of support in the comments, but most people were simply left aghast that her husband would do such a thing behind her back.
"Tell him "sooooo, you just gave your mother 24-hour access to watch US in our own home. And you don't see anything wrong with this?" Then give him 2 business cards and get him to choose: marriage counsellor or divorce attorney," wrote one irate advisor.
"Start by changing the password to the camera account and Do Not give it to your husband. He lost that right when he gave the last one to his mummy," added another. "Then you need to seriously think about your relationship. How can you trust him now?"
"Oh, I find this deeply, deeply upsetting. Having a nanny cam because you are their boss and the parent of the child is one thing. Having access to constant surveillance in someone else's house without their knowledge or consent is frightening. It removes their sense of safety and security. It is a theft of their right to privacy," replied a third. "Your husband Just. Can't. Do. This. He can't let someone spy on you in your house without your knowledge and consent."
This mum needs to have a difficult conversation with her husband as soon as possible. This blatant violation of her privacy in favour of his mother's wishes is a massive dealbreaker.
What advice would you give this woman? Let us know in the comments.