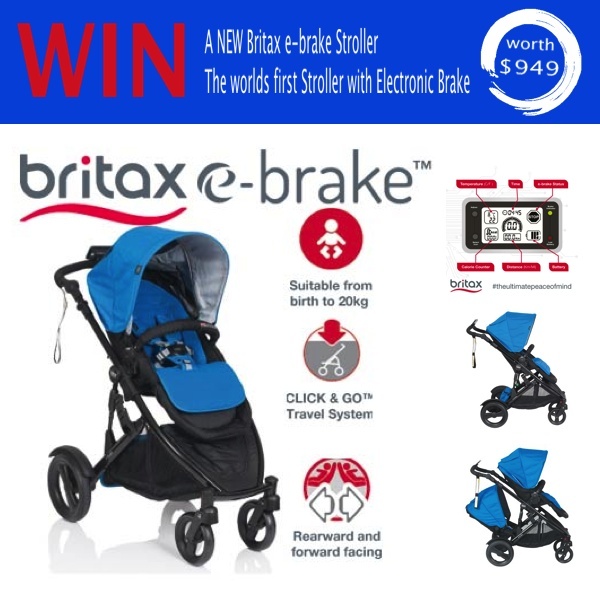 WIN a New e-brake stroller from Britax worth $945 – The World's First Stroller with Electronic Brake
Have you ever had one of those heart-stopping moments when your child suddenly releases their grip on the stroller and makes a mad dash towards the road, to grab a dropped toy or a really cool stick they spotted, just as a car is coming? Or stopped to pick up a dropped item yourself and in a split second your stroller rolls away from you, which could have devastating consequences. With 4 small children at my feet, these are everyday fears when I leave the house and just a simple walk to the park can leave me with my heart in my throat. Thankfully Britax have swooped in and offered some help for us juggling Mums and Dads in the form of the world's very first stroller with an electronic safety brake.
The e-brake stroller is in a class of its own and it would seem that Britax are not content with just creating the safest car seats available, they are now leading the way with safety in strollers. The new e-brake stroller is fitted with an electronic brake that is activated the moment your hands release from the handle; so runaway strollers will be a thing of the past. The sad reality is that far too many precious little ones are being injured each year due to strollers rolling away and either toppling over or heading into the path of oncoming traffic and even falling onto train tracks and now Britax has found an innovative way to give parents peace of mind with the 'e-brake stroller'.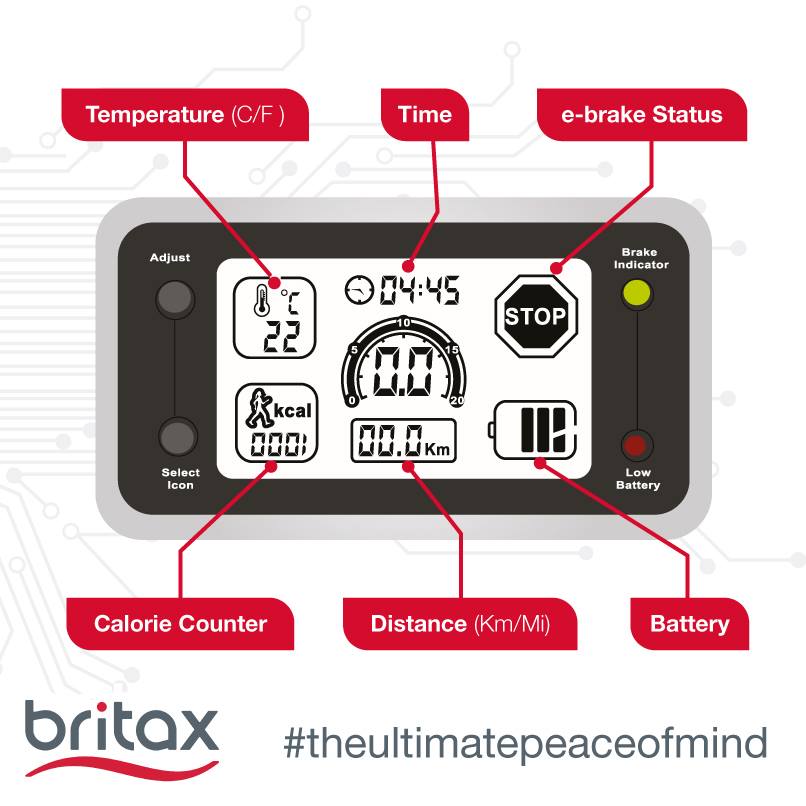 I am not sure who was more excited to be taking the Britax e-brake stroller for a test run – my husband or me. The word 'Gadget' seems to light up his eyes every time it's mentioned and for a man who thinks 'every stroller is the same' argh, it was quite pleasing to see his sudden sparked interest in this one. The computer display is simple and easy to use, so takes little to no effort to come to grips with it. The battery indicator clearly lets you know how much charge you have left, so that you can ensure that you never run out of charge when you might need it. Not only is the system on-board the stroller an amazing safety device, it is also a portable charger for your smartphone, which is a fantastic addition for any Mum on the run like me. I was also quite impressed that this device had been taken another step further and the screen also features a speedometer, temperature gauge and estimates for distance travelled and calories burned pushing the stroller, so it was a great incentive to walk that little bit further and burn off that extra biscuit I had this morning.
The e-brake stroller does also come with a manual brake and a clear brake indicator, which did give me that extra bit of comfort when I was loading my little ones into the car while parked on the steep slope that leads up to kindy. Also, if you are also a thong wearing Mum or Dad, then you will be pleased to know that the manual brake is easily applied while wearing thongs (tap-on, tap-off).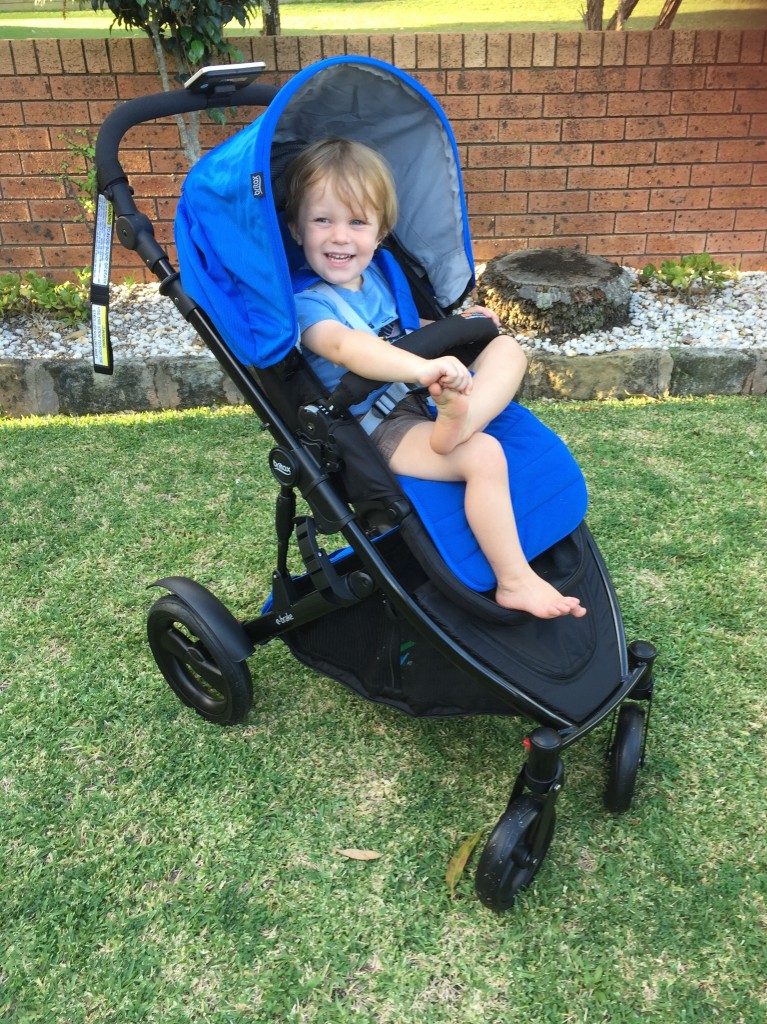 The e-brake stroller is so much more than just a super safe stroller though as it comes with all the other great features that I would be looking for in a stroller, such as:
Stylish washable covers on fully reversible seat, both forward and rear facing options and four position recline.
Quick release wheels for compact storage, which is great if you have a car full already or limited space to store it in.
Height adjustable handle and adjustable leg supports – perfect for growing bub and comfortable pushing position for both me and my 6ft4 hubby
Adaptable to growing families, the Britax e-brake can accommodate the Britax Click & Go Bassinet, second seat for newborn or toddler and up to 2 Safe-n-Sound Unity infant carriers travel system convenience, which are all available to purchase separately).
Dual bearing wheels and rear soft putter tyre, inflated with lightweight foam to ensure smoother ride, without the risk of punctures on rougher terrain
Lockable swivel front wheels
Its 2000Ah rechargeable battery, which powers the automatic brakes for up to 10 days
Plus all of the accessories you would expect, such as CLICK & GO Receivers, Boot cover, mesh cover and rain cover
This stroller really does have everything. It's stylish and looks great when you're out and about, it grows with your family, so no need to buy a new stroller later on, It's compact so will fit in most cars, and best of all it is designed with the safety of your child at the top of the priority list.
Written by Julie Muchamore
 Disclosure: Our writer was gifted the Britax e-brake stroller for the purpose of an honest review.  All thoughts and opinions expressed here are her own.