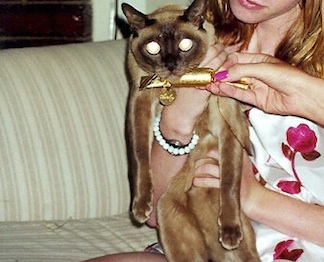 Harley's Story May Give You Paws for Thought! PLUS GIVEAWAY
When my friend Lisa and her husband Craig went off to work one morning, they could never have imagined the fate that awaited their beloved Burmese cat Harley.
At some stage during the day, Harley got his paw caught in the screen door – and with nobody home to help him, poor Harley caused more damage the more he wrestled to free himself.
When Craig arrived home at the end of the day he could hear Harley's whimpers – and found him bleeding and barely conscious. Harley had almost completely severed his toe from his paw.
Craig rushed Harley to the vet where he had the toe amputated, and was kept on a drip for 2 days.
"I was interstate while all this happened, leaving my beloved fur baby in Craig's care," Lisa explained. "Craig didn't dare question any of the vet procedures…or the bills, which were astronomical! When I got home days later Craig led me by the hand to my bandaged boy and handed me info about the pet insurance cover he had taken out subsequently. It was a little late but at least we are now prepared for any future dramas!"
Protect the pets you love – insure with the pet people who are rated #1 by Aussie pet owners on Product Review.
SPECIAL OFFER: Bow Wow Meow Insurance are offering 2 months free coverage plus a free pet tag when you sign up. To get this offer simply enter the promo code BL365 when you get a quote at www.bowwowinsurance.com.au (note: offer expires 31 October 2015).*
Bow Wow Meow Insurance is an Australian-owned business that enjoys a high level of support from the veterinary community, who appreciate that they are pet people. Since their launch in 1995, more than 30,000 Australian pet owners have found their benefits, options and cost of their policies to be very attractive. They have also consistently been rated the number 1 Pet Insurer in Australia by pet owners on Product Review. Underwritten by The Hollard Insurance Company Pty Ltd, (Australia's leading pet insurer.)   
Giveaway
Keep your pets happy and active with one of these fabulous pet prizes!
  a Rafflecopter giveaway
*Pet Insurance Offer Terms & Conditions
1. If pet owners would like to take advantage of the free 2 months of pet insurance, they will need to enter the promo code 'BL365′ in the Bow Wow Meow quote tool. This will automatically provide 2 months free coverage on an annual policy.
2. The cooling off period is 21 days. After this time, Bow Wow Meow will email a pet ID tag coupon to the customer.
3. The promo Code BL365 is valid until 31st October 2015.