Jacqueline Kennedy was the epitome of style and grace. Although at the heart of it all, before tragedy struck, she was also a wife and mother who loved her family. It was well documented that the Kennedy family had their own cook, although it is particularly noteworthy that these waffles have been said to be John Kennedy's favourite.
It is a nice thought that Jackie O would perhaps take it upon herself to potter around the kitchen in her robe and slippers, and make these light and fluffy waffles for the man she loved. The man, who only so happened to be the President of the United States of America.
It has been said that Jacquie O, this woman of high taste, also had a fondness for things plain and simple, at least when it came to food.
"She always wanted dishes to look homemade, not fancy," says Marta Sgubin, author (with Nancy Nicholas) of "Cooking for Madam." A book featuring recipes and reminiscences from her 25 years with Mrs. Onassis.
Despite her fame and fortune, Jacqueline Kennedy wasn't all that different from other mothers.
"Madam was a public figure," says Sgubin. "But she was also living a regular life. She did what everyone else did every day. She got up and ate breakfast and went to work. When the children were young, she ate every meal with them just like any mother would. She knew what she wanted and she knew how she wanted things to look. And family came first. Always."
John Kennedy's Favourite Waffles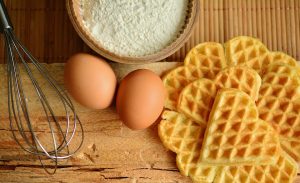 Ingredients:
1/2 cup of butter
1 tablespoon sugar
2 egg yolks
7/8 cup of milk, or one cup buttermilk
1 cup and one tablespoon of sifted cake flour
1 pinch of salt
2 stiff beaten egg whites
4 teaspoons baking powder
Method:
Cream butter and sugar, add egg yolks. Beat. Add flour and milk alternatively. This may be done at any time. When ready to bake fold in egg whites, and add baking powder.
Mixture should be thick and fluffy.
Bake and serve with hot maple syrup and melted butter.