Woman Dubbed 'Evil Stepmother' Asks How to 'Get Rid' of 4yo Stepdaughter in Facebook Post
There are some things on the internet that we are all hoping are fake and created by trolls for a bit of a laugh on a dull afternoon. Every now and then an image will surface that appears so callous and coldhearted that we can only hope it cannot be real. This is one of those times.
A screenshot of a Facebook message has been doing the rounds of late that has been stirring up a lot of big feelings.
Taking to a relationship help group, the "evil" woman  – who is seven months pregnant with "a precious little girl" – revealed her desire to remove her stepdaughter from her life, writing she "gets on my damn nerves".
Heartbreakingly, the little girl never knew her own mother as she passed away during her birth. Her sole parent is her father, who is now engaged to this awful woman.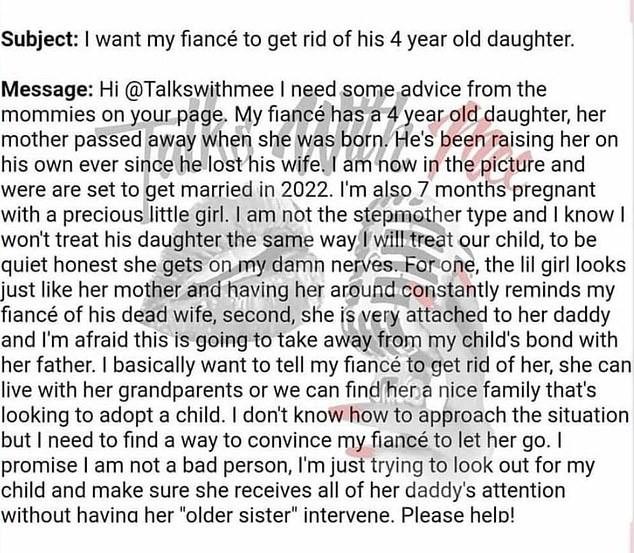 Disgusted commenters wrote they couldn't believe what they were reading, with some dubbing the woman a "step monster".
"I hope the fiancé sees this and gets rid of the step monster and raises that baby along with his little girl on his own," one wrote.
"As a stepmother, I just have to say, what an absolute piece of garbage. That poor baby girl," another added.
"This made me literally sick to read. That poor little girl deserves so much more than that hag."
Again, we can only hope that this is the product of some bored troll looking to stir up trouble among those that genuinely do care about this little girl's future. Unfortunately, there is no way to tell either way.
Source: Facebook via The Daily Mail