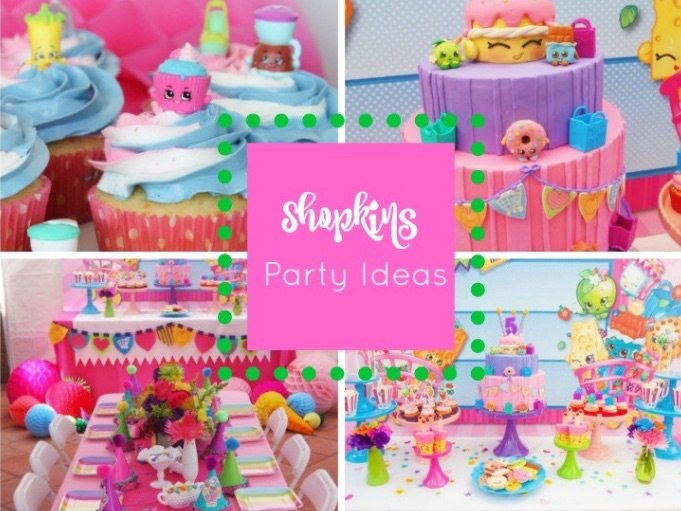 Shopkins Party Ideas
If you have a little girl who is obsessed with Shopkins, then this party theme is one they may request for their next Birthday. The world of Shopkins has swept many girls into a frenzy of collecting the miniature character toys. I gave a few sets to my girls for Christmas, and they have LOVED playing with them. My 5 year old is now considering having a Shopkins themed party for her 6th Birthday party. With her request in mind, I've scoured the net for the cutest Shopkins party ideas that will be a party dream come true for any little girl.
When choosing your colours for the table setting, think bright colours. Use block coloured cake holders to display food items for guests to enjoy. Sprinkle confetti on a white table for a fun party atmosphere.
Set up a dining table for the girls to sit and eat their sweet treats. Use rainbow paper plates and pompom party hats as part of the party décor. Display bright, coloured flowers in white vases for a fun and feminine touch to the table.
If you want to get a Shopkins Party Banner like this one, you can purchase it from Etsy.
When thinking about the food, it's time to get the food colouring out and be creative with some party food favourites. Put popcorn in Shopkins personalized cartons and make crispy treats with paddle pop sticks.
For a really sweet idea, top cupcakes with Shopkins figurines – just make sure the kids know not to eat them.
Make Sippy Sip cups by following a Shopkins Character. Use the mini characters that you own to inspire your own take on various party décor and food.
Keep the kids occupied with Shopkins colouring in books.
How cute are these Shopkins hot air balloon party favours? The girls will scream over these. The full tutorial on how to make them can be found on Hello Splendid.
This is the time to go all out on the party cake. Go crazy decorating each layer with Shopkins bags and figurines.
Is your little girl obsessed with Shopkins? Would she love a party theme like this?