Win a Strider Compact Stroller worth $849
My little ones are at an age now where they like to climb in and out of the stroller by themselves and so one of the first things that stood out about the Strider Compact is how sturdy it feels. Sure enough, as soon as the stroller was up, they put it through its first test and climbed straight in. At this point I am usually at hand ready to catch a toppling child or stroller but, despite my little ones best climbing efforts, the Strider Compact held its ground.
The manoeuvrability of the Strider Compact is great and makes getting out and about nice and easy, particularly with the little ones who often want to walk. It's certainly a good thing being able to push the stroller with one hand. From a Mum that remembers only too well what it was like to get a puncture with my first stroller when out shopping with a newborn, bags of shopping hanging off the back and a 20 minute walk home, it is so good knowing that the Strider Compact has foam filled wheels and I have no need to fear this happening again.
I think that the biggest plus with the Strider Compact is its incredible flexible in terms of how you can use it and that it grows with your family. The Strider Compact can be used in 10 different combinations, so helps to make every outing a little more manageable. The Strider Compact is compatible with an Infant Carrier (or 2) and a Bassinet, so it can be used right from birth and would have been great when my little ones were born. I certainly think that adding the second seat is a great option and as far as double strollers go this is a pretty compact option and nice and easy to navigate the shops or busy days out.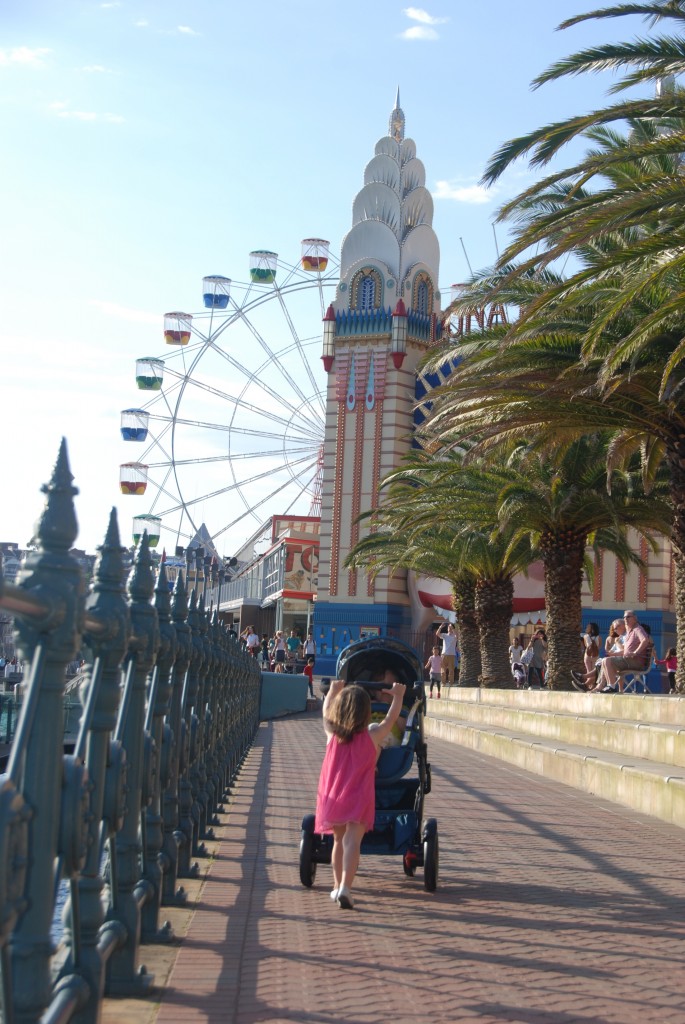 I really loved that the Strider Compact could be folded without having to remove the seat first – anything that helps make that transition from Stroller to car seat as swift as possible is very welcomed, especially if you have a very tired and cranky little one that really needs Mum to hurry up and drive the car so that they can fall asleep. A mums sanity is easily saved with that extra little bit of thought put into the design that saves us a little bit of time at those crucial moments.
The Strider Compact has a reversible seat which such a nice option to have, ensuring that my little ones can get maximum benefit from that special interaction with Mum/Dad that having them facing you offers. It also gives them the opportunity to explore the world around them and take in all those wonderful new sights. The added 4th recline position on this newer model is also a welcomed feature as my little ones can sit completely upright, which is great for having snacks on the run and it also gently reclines to offer my little one a nice comfortable rest.
With the hotter days now arriving I was very pleased that the Strider compact has a large expandable hood, offering my little ones that extra shade from the sun and protecting their precious skin.
We were lucky enough to be sent the gorgeous Kingfisher colour, which I love, but there are 6 gorgeous colours to choose from, so there is sure to be something to suit everyone's taste.
The Strider Compact has so much to offer that it would make a great choice for a new family starting out or one that's growing. It's versatile, comfortable, stable and secure and a great compact option for a travel system that will grow with your family.
Written by Julie Williams
Thanks to Britax Au we have a New Strider Compact Stroller worth $849 to give away to one of our lucky readers. Enter below and good luck x
Win a Strider Compact Stroller
Disclosure: The author was gifted a Strider Compact for the purpose of an honest review.  All thoughts and opinions expressed here are her own.