'Mary and Marie' Ibiza Tote Bag Review
Whenever I head to the beach with the kids, in between jumping over the waves and building sandcastles, I find myself suffering a little with 'Beach Bag Envy'. I often look around at all of the gorgeous bags propped in the sand then think back to my collection of rather unglamorous yet practical bags and my heart sighs a little. So, whilst my heart starts to long for one of those gorgeous looking totes, my head tells me that 'they are just not practical while I have a young tribe'….or at least that's what I thought until I discovered 'Mary and Maries' gorgeous range of Beach Tote bags.
The Mary and Marie Totes are far more than just a stylish beach bag as they feature their signature M&M removable and hand washable organiser, making this a gorgeous choice of bag for anyone – including Mums with all their extras they need to bring.
I have been testing out the simply divine Ibiza Beach Tote over the last few weeks, which is exactly what I needed (and wanted) for our beach trips with the little ones in tow.
The quality of the Ibiza Beach Tote is faultless, with perfect trims, flawless seams and sturdy zips it promises to be a beach bag that will be loved for a long time. Topped off with a gorgeous sparkle of silver woven into it giving it that really glamorous look, I have enjoyed sporting my new beach tote bag on many occasions and not just to the beach.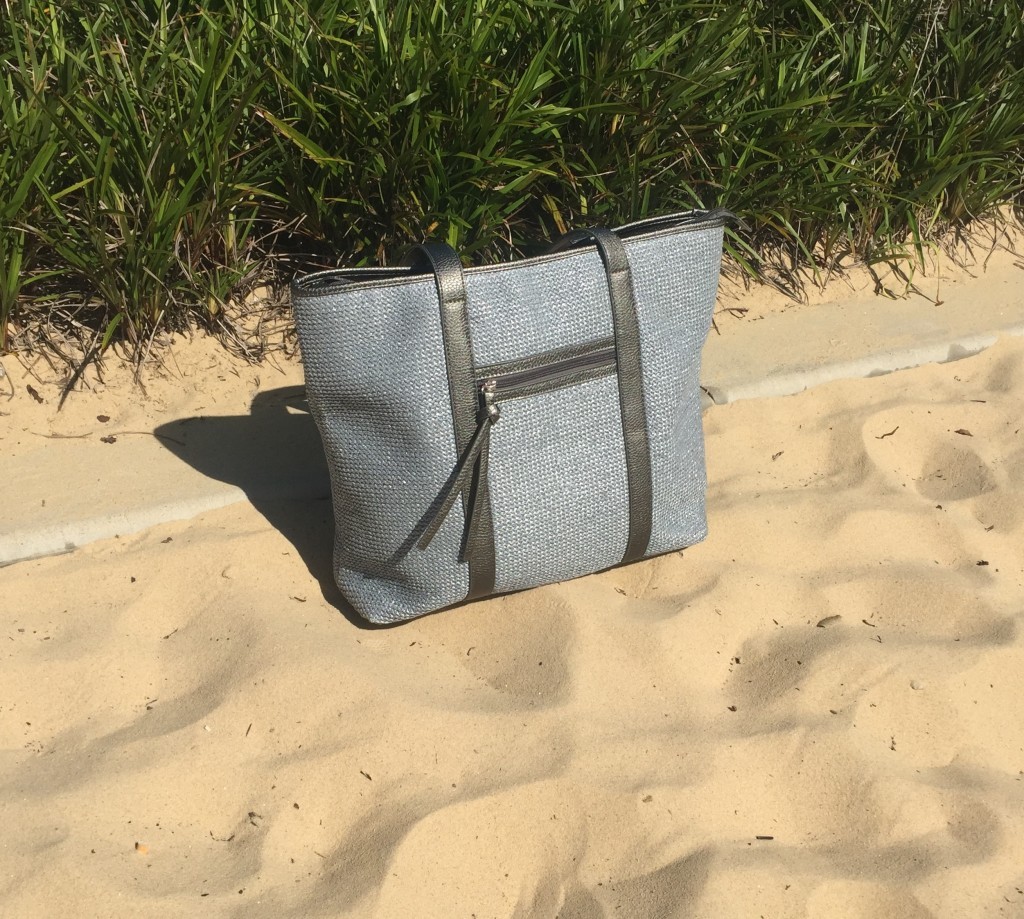 The Ibiza Tote Bag has a zip up pocket on the outside for keeping items that you want to get to easily. Then on the inside, in the removable organiser, there is a Neoprene bottle holder to keep your water bottle cool or baby's bottle warm, mesh pockets so that you can easily see what you have stored inside them and reducing rummaging time, a key clip so that you can find your keys quickly without emptying the contents of your bag. There's also a clear plastic section, which is perfect for items that may leak en-route and an elasticated wallet to help keep your valuables secure.
Best of all, I can remove all of my items in the removable organizer in one go and zip it straight into my other bag, which makes switching bags very quick and easy. The removable organiser also makes cleaning all of the sand and collected shells out of the bottom an easy job, so that my bag is clean and ready to go every time.
The Ibiza Tote Bag is a great choice for the beach or any occasion, as it is stylish and classy on the outside and practical and organised on the inside….perfect for anyone!
Written by Julie Williams.
Giveaway
Thanks to Mary & Marie we have a gorgeous Ibiza Tote Bag worth $110 to give away to one of our lucky readers. Simply enter below for your chance to WIN, good luck.
Win a 'Marie & Mary' Ibiza Tote Bag RRP: $110

Disclosure: The author was gifted a 'Ibiza Tote Bag' for the purpose of an honest review. All thoughts and opinions expressed here are her own.