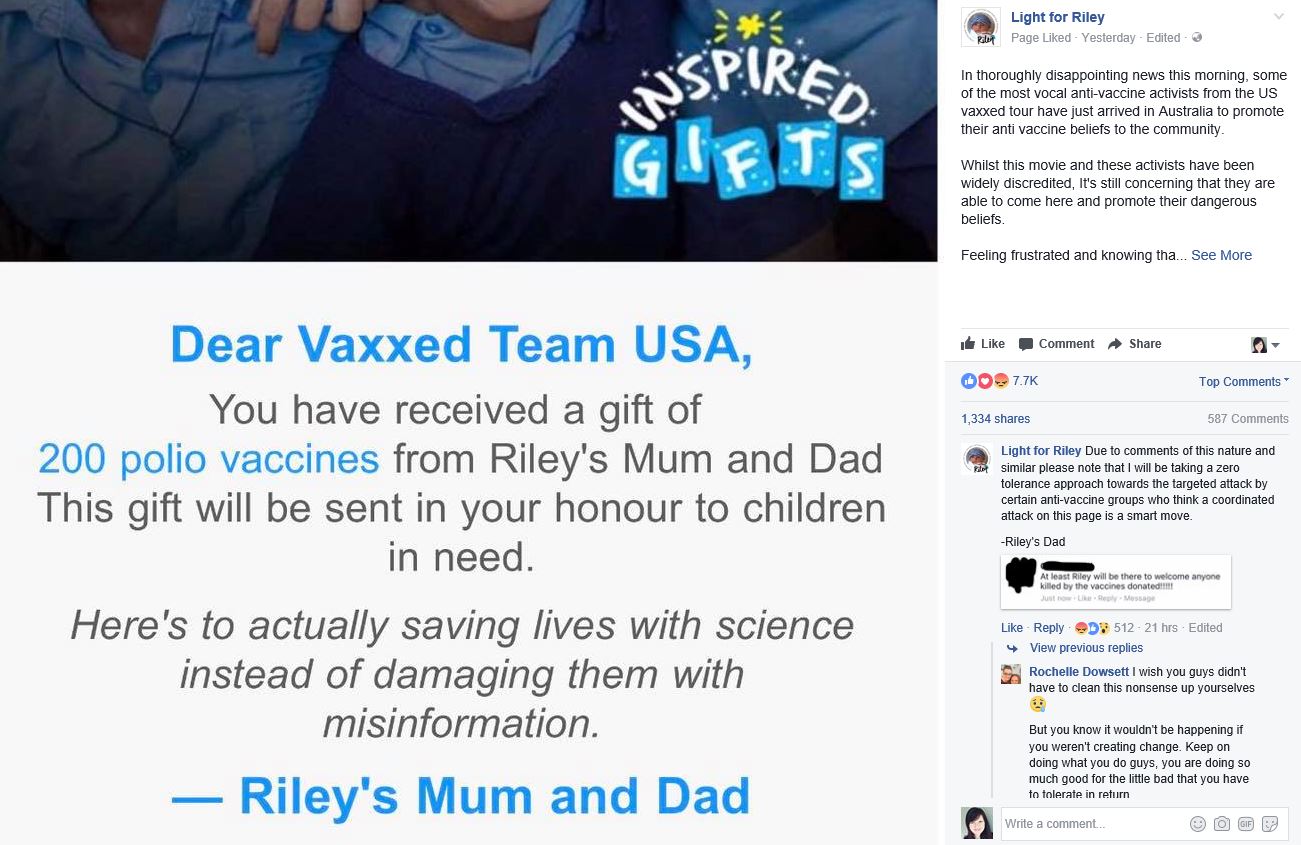 Light for Riley Respond to the Vaxxed  Anti-Vaccination Tour Team in The Best Possible Way
If your baby died due to a vaccine preventable disease, and a movie was secretly screened in your country to promote anti-vaccination beliefs, how would you respond?
Catherine and Greg Hughes are that couple who lost their baby son Riley to whooping cough when he was three weeks old.
The couple have committed themselves to raising awareness of vaccinations for children and pregnant women, to prevent more deaths like Riley's.
Riley contracted whooping cough when he was 32 days old. The newborn died in his mums arms on March 17. 2015. As a result of their grief, Light for Riley was set up and the couple have campaigned to raise awareness of vaccinations.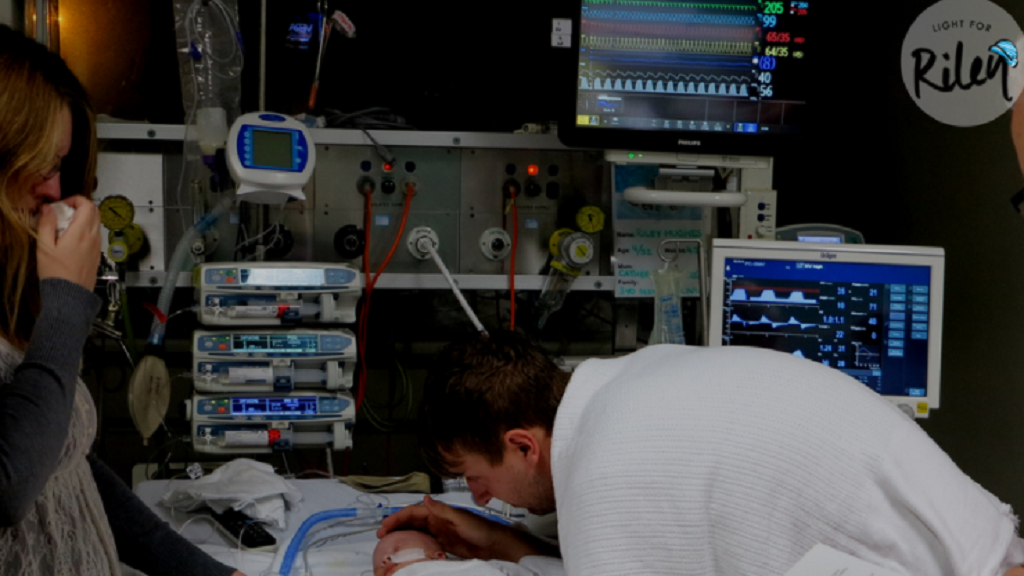 In the wake of the recent plans of  secret screenings in Australia of the anti-vaccination film, Vaxxed, from the US,  the couple have responded in the best way.
They posted on their Facebook page Light for Riley that they have donated 200 polio vaccines through UNICEF in honour of the film.
The post was accompanied with this message, "In thoroughly disappointing news this morning, some of the most vocal anti-vaccine activists from the US vaxxed tour have just arrived in Australia to promote their anti vaccine beliefs to the community.
"Whilst this movie and these activists have been widely discredited, it's still concerning that they are able to come here and promote their dangerous beliefs.
"Feeling frustrated and knowing that their voice could potentially influence a small section of vulnerable parents we wanted to offset the damage caused by their arrival.
"So here's to you vaxxed team USA, we are donating 200 polio vaccines through UNICEF in your honour. That's 200 children protected from a serious vaccine preventable disease thanks to your arrival."
Catherine and Greg Hughes have been a shining light in the face of their vaccination campaign, yet it's come at extreme cost. They have received threats and backlash for promoting their vaccination message.
Yet they are committed to reducing vaccine-preventable deaths like the one they experienced with Riley.
The new film called Vaxxed has arrived in Australia and will be secretly screened around the country. The film was directed by discredited doctor Andrew Wakefield, who lost his license to practice medicine in the UK after publishing false claims that the MMR vaccine was linked to autism.
Nevertheless, the study started the anti-vaccination movement which promoted the incorrect findings that vaccinations cause autism in children.
The movie has raised protests in America.
Robert De Niro came under fire for screening the film at the Tribeca Film Festival in 2016. The actor thought the movie would be informative and interesting.
De Niro released this statement in response to protests about the film.
"My intent in screening this film was to provide an opportunity for conversation around an issue that is deeply personal to me and my family. But after reviewing it over the past few days with the Tribeca Film Festival team and others from the scientific community, we do not believe it contributes to or furthers the discussion I had hoped for.
"The Festival doesn't seek to avoid or shy away from controversy. However, we have concerns with certain things in this film that we feel prevent us from presenting it in the Festival program. We have decided to remove it from our schedule.
"Grace and I have a child with autism and we believe it is critical that all of the issues surrounding the causes of autism be openly discussed and examined. In the 15 years since the Tribeca Film Festival was founded, I have never asked for a film to be screened or gotten involved in the programming. However this is very personal to me and my family and I want there to be a discussion, which is why we will be screening VAXXED. I am not personally endorsing the film, nor am I anti-vaccination; I am only providing the opportunity for a conversation around the issue."
Despite whether the film is informative and 'interesting', promoting the anti-vaccination message can be damaging to the community.
Catherine told Kidspot, "We know that most parents are smart enough to ignore anti-vaccine propaganda films that have been widely discredited.
"We know most people understand that real scientific discoveries are made not on camera but in research laboratories," she said.
"We do feel concern for those parents who get confused about vaccination and encourage them to chat to their GPs rather than these anti-vaccine activists who have arrived in Australia.
"We are amazed that thousands and thousands of vaccines have since been donated to UNICEF. We feel this really helps to off-set the damage caused by this 'anti-vaccine tour'. Hopefully our actions will speak louder than their words."