Try Covitol Cream for Yourself – We Think You'll Love it!
Whether your child is a newborn bub with their first case of nappy rash, a toddler with eczema or a school kid prone to mozzie bites or falling and scraping their knees – we recommend keeping some Covitol in your handbag. For those new to the product, it doesn't take long to figure out why this wonder-cream has built up such a cult-like following.
Although it was first developed as a treatment for nappy rash, Covitol has since proved itself as a very effective topical ointment for a whole host of ailments ranging from eczema, sunburn, cuts, scrapes and other skin infections.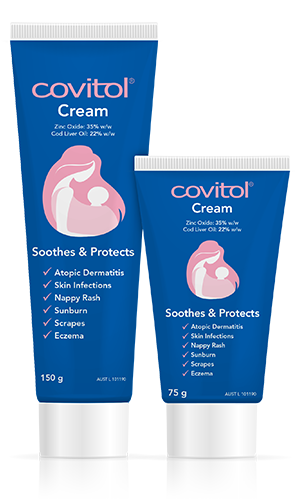 So, what makes it so different from other products that are available?
Unlike other products on the market Covitol contains natural ingredients:
Zinc Oxide – Protects and soothes wonded skin and eczema
Cod liver oil – rich in Vita min A & D and Omega 3. May speed wound healing.
Parrafin – Soothes irritated skin. Low allergy.
Lanolin – Softens and soothes dry skin
Beeswax – Helps form thick protective barrier
It is worth mentioning that while it is fragrance and colour free (which is great for sensitive skin) some users do say that they can smell the cod liver oil in the cream. However, we didn't find it to be an overpowering or unpleasant scent at all, and given its quick and effective ability to heal uncomfortable and sometimes painful conditions such as nappy rash and eczema, we certainly wouldn't consider it to be a negative at all. In fact, we'd much prefer to apply a product with natural ingredients onto delicate skin than use something scented that may cause further irritation.
Covitol is a gentle, rich moisturiser that provides a thick, smooth barrier that protects and heals the skin – and is suitable for the whole family! We always keep a tube handy just in case, and we're pretty sure you will too after you try it!
Covitol is available from pharmacies $7.95 for 75g and $12.50 for 150g.
Try it for Yourself! Win a 150g tube of Covitol.
We've got four 150g tubes of Covitol to giveaway to readers who would love to give this amazing product a try! For your chance to get your hands on one simply complete the entry form below.  Good luck!
Only open to residents of Australia.